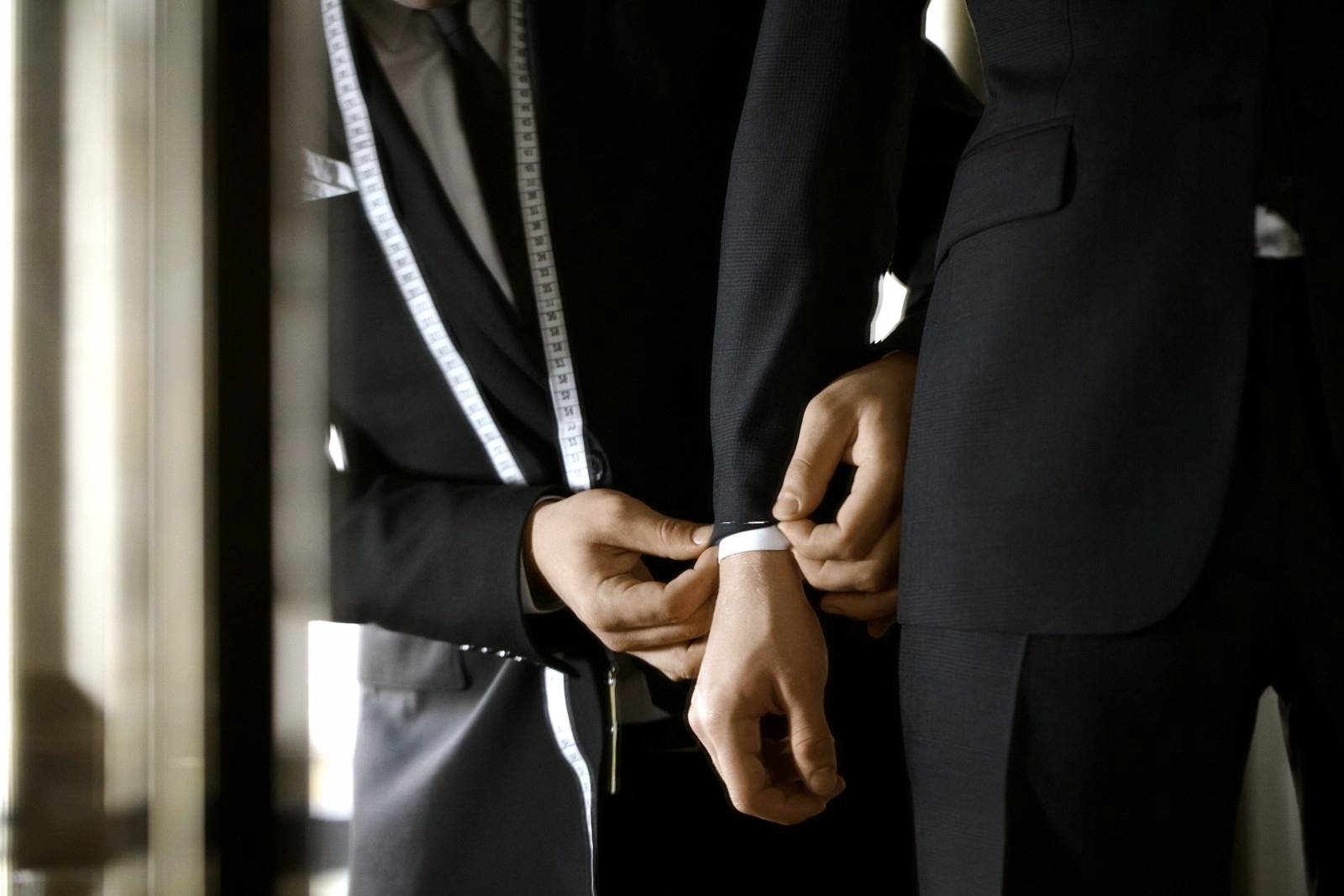 Let's cut to the chase; no matter how incredibly well-toned a man is at any age, if his clothing doesn't fit properly, then the image he's projecting isn't his best. That is why the tailor becomes man's other best friend. Superb tailoring is more than hemming a pair of trousers, and the right professional understands one's individual frame and that the perfect alterations or custom-made garments can dramatically transform every man.
The Tailor Always Knows Best
Like most women, there are a lot of men with insecurities about their bodies. Maybe they are carrying around a gut and prefer over-sized pieces to hide it, or they are short and are hoping a longer suit jacket will add some height, etc. The expert tailor wants you to speak your mind and make suggestions, but when it comes down to it, the tailor knows best and has dressed numerous physiques of every height and proportion out there.
Fit and flattering are key; see here how over-sized garments do not do a body good as explained by the BusinessInsider. A few inches this way or that way can decide sophistication versus ordinary or one-size-fits-all. Trusting your tailor is a good feeling; he is working for you every time.
Details Determine Ideal Dress Shirt
The dress shirt has become a very important piece of a man's wardrobe and can instantly define his personal style. The high-quality material of the shirt matters but so do the extra details. Custom shirting has become a popular asset to men's fashion, and when the proper fit is achieved, the added features maximize the look. A tailor can create the ultimate dress shirt that is comfortable and looks sharp on your frame.
The perfect pocket or not, cuffs, collar, front and back of the shirt are all taken into consideration, says the GentlemensGazette. In other words, pleat front, French front, Western, box pleat, angle corner, round corner, eton, tab, etc. all determine the exquisite craft and design of a man's dress shirt.
Men Don't Have To Wear A Uniform
Often times, a lot of men go out and purchase a suit, shirt or trousers because the item is on sale, the preferred color, price-point, etc. As long as it looks decent, he will buy it off the rack because he sees his personal style as that of a uniform, unfortunately.
He doesn't bother to understand the fabric he is choosing such as the weight, construction, texture and composition. If he can fit in it and move about, he will grab it because it's easier that way. Shape and cut are beyond his fashion imagination because most men have been brought up to believe that short, regular or long are all one needs to know.
Booking a consultation with a tailor and getting to know the expert's craft, experience and fashion perspective can propel a gentleman into the big leagues of personal style and image. Bespoke is where it's at.